HOLIDAYS = Kicking off with a BEACH PARTY with BITCHES AND BEACHES(sadly only Han Chiang Collegemates only) - Paintball on sun - Maybe Monday till Friday heading off to KL cause of Adam Lambert GlamNationMalaysia Concert on the 14th Oct(Speaking of which its NEXT THURSDAY and I haven't bought ma tixs yet or gotten a
date
) - Saturday Steamboat SLeepover @ Jing's house. Those are the plans so far WOOT~!!!
I HAVE A PAC-MAN CRAZE~I've been
Pacmatized
What Joe shared -
link
-
The Virtual Museum -
link
-
Official Site -
link
-
Church of Pac-Man?! I think its more of the
history
of it instead -
link
-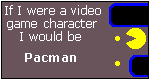 I am Pacman.



I am an aggressive sort of personality, out to get what I can, when I can. I prefer to avoid confrontation, but sometimes when it's called for, I can be a powerful character. I tend to be afflicted with munchies constantly. What Video Game Character Are You?